Custom Wilderness Excursions
W

hat's your idea of the perfect wilderness trip?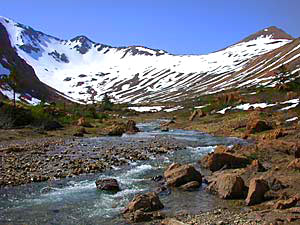 Sailwood Adventures can help you answer and actualize that question. We can put together a trip that's as challenging as you desire. In the Kachemak Bay area there are a number of activities available to help you get the most out of the area. We can use mountain bikes or sea kayaks, along with hiking or backpacking as modes of transportation to get us further in or higher up.
The Kenai Mountains and the Harding Icefield contain beautiful alpine regions and provide endless vistas and wildlife viewing opportunities. Hikes take us over Grace Ridge, Broken Knife, Sadie Peak, or into the Woznesenski River valley. We could also ride bikes or hike across the peninsula that separates Kachemak Bay from The Gulf of Alaska into some fantastic back country. This trip can take us into the Red Mountain valley or we can head downhill into the Rocky River drainage. These both offer awesome paths into deeper, less traveled areas.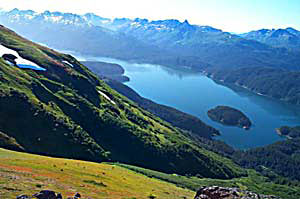 We can combine any of the trips together to make an exciting, unforgettable wilderness vacation of your own design. These trips are well suited for family vacations with older aged children, or office and department outings. Sailwood Adventures has been leading this area for over 12 years, we have the experience to help you create your own wilderness trip.
Kachemak Bay offers a wonderful water travel option; using sea kayaks can slow things down and help you reduce your world to better match nature's clock. Tides and weather become important when we take to the water in our Necky sea kayaks. Floating the tides and collecting wild food as salmon jump in glacier fed waters are some of the best ways to spend a long summer day. This area has some of the most delightful coves and passes to watch for sea otters, puffins, and eagles from the comfort of your own kayak cockpit. Tutka Bay, Little Jakalof, Eldred passage, Yukon island, and Gull rock are all lovely when explored by kayak.
"Another wonderful stay at Caleta. Katie is already planning next year's stay! Wild life was abundant as usual including two black bears high on the opposite ridge. The weather was wonderful even when the white caps showed up one day." Thanks so much, the Flagels, Anchorage, Ak
Click HERE for a large slideshow