La Caleta Lodge, Real Wilderness Lodging in Sadie Cove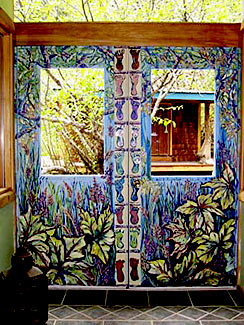 La Caleta means "safe cove" in Spanish and infers warmth and security. Our boathouse in Sadie Cove reflects the whimsy and delight of this safe, protected anchorage. La Caleta is a building constructed with homespun creativity and enthusiasm. Willie and Marcee built this haven themselves using locally milled lumber, natural materials and elbow grease.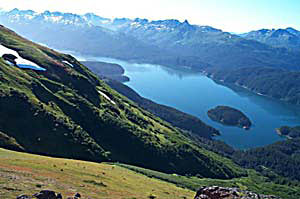 The setting is spectacular—peaks shoot from the water as the tide line constantly reshapes the vista. La Caleta is a beautiful place to nestle into to enjoy the natural rhythms of the wilderness. Folks familiar with the area can enjoy peaceful, private time, doing independent adventures, enjoying the solitude. Kayaks are available for rent and Sadie Cove is a great place to explore by foot or boat. Sailwood Adventures can also provide guides to help you enjoy the area if hiking or kayaking interests you.
I know I'll be back-thanks so much for sharing this beautiful place with us and the world. You are the greatest & so is La Caleta! With appreciation, K.B. Asheville, North Carolina
Accommodations
La Caleta is equipped with a full kitchen including cooking and eating utensils, hot and cold running water, electricity, both wood and gas heat. There is a small refrigerator with limited ice making capacity—you may want to bring extra in a portable cooler. The stove and oven use propane as does the water heater. The water is potable and is some of the finest on the planet.
Water Taxi service
Round trip from the Homer boat harbor to Sadie Cove (and comparable points ) is $80.00 per person. Water taxi trips from La Caleta to trail heads, rivers or kayak transport are an added cost.
"Marcee & Willie, Thank you for letting us experience your unique place and surroundings. The view is incredible, you have created a lifetime memory. Thank you for all your generosity!"
Brad and Nicole (Richfield, Minnesota) Brenda & Mike (Hastings, Minn.)

Gull Rock Water Taxi Loop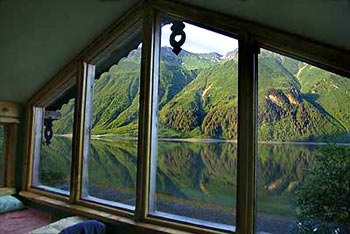 On your trip to or from La Caleta Wilderness Lodge, why not add a boat tour of Gull Rock? This is a world class seabird rookery—the summer breeding ground for thousands of cormorants, seagulls, kittiwakes, common murres and horned puffins. It's fascinating to see all these birds together with their nesting babies. Hear the wild, raucous alarms when a raiding bald eagle swoops by. Gull Rock is a Kachemak Bay "must see." Add $50 to your water taxi fare.
View from Upstairs
The upstairs sleeping area is one open room, family style, suitable for up to eight people, and is equipped with beds and mattresses. As you can see, the view from the upstairs window is something special.
Sauna and Bath House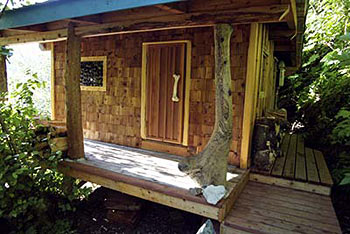 The sauna is wood fired, has a dressing room and connects to the bath house. The bath house has a shower and sink. The sauna/bathhouse is separate from the main building, but connected by a comfortable boardwalk.
Things to bring for your visit:
Guests must bring sleeping bags and provide their own food and drinks. That way people are bound to enjoy the meals! :-) If you enjoy barbeques, don't forget the charcoal. There are grills as well as a fire pit for cooking with wood.
You should also bring a day pack, water bottle, suntan lotion, sunglasses, rain gear, polypro or pile top and bottom, tennis or camp shoes, extra socks, bug dope, binoculars...
"Willie and Marcie, Thank you so much for sharing your slice of heaven. This is exactly what we were looking for : a place full of love & surrounding beauty. We appreciate your craftsmanship and hope to share our place with you in Montana. All the best." C&A Calio,D&C Boroughs, C. Coleman Bozeman, Montana
Reservations and Cancellation Policy: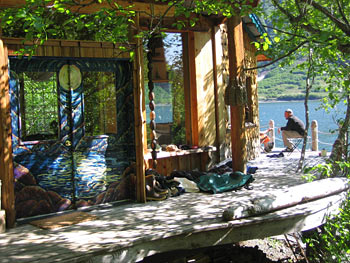 Prices for nightly rental: Minimums: 4 people for 2 nights at $120 per night —$960 total
There is an additional charge of $120 per person per night for up to 8 people.
Reservations may be secured at the time of booking with a 50% deposit by check. Full payment is due within 60 days of the booking. If your reservation begins fewer than 30 days from your booking date, full payment is required at the time of booking.
Cancellation Policy: Because our season is very limited last minute cancellations will almost certainly mean loss of revenue. Therefore, our cancellation policy is strict.
Changes received in writing within 60 days of your reservation date will be refunded only if we are able to re-book the facility with a party of the same size. In any case, a $50.00 per person fee, including children, will be deducted from your refunded amount. Reductions in the size of your party before or at the time of your visit are considered cancellations, consequently your party will still be responsible for the original number of reservations.
Cancellations received less than 30 days prior to the scheduled arrival date will not be refunded.
"Thanks for a wonderful space to let time choose its own rhythm. We always leave reluctantly and look forward to our next visit." T&T Homer, Alaska