Sailing Kachemak Bay & Sadie Cove on the S/V Stella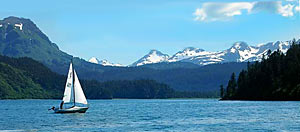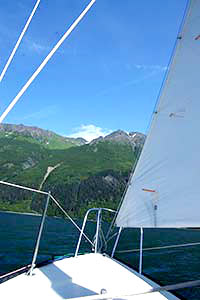 Imagine yourself sailing in Alaska in the endless summer daylight... It doesn't get any better than this.
Stella, our 25' Buccaneer is good fun for people of all skill levels. She's safe, seaworthy and sails well. Folks with sailing experience will enjoy her quick agility and sassy attitude.
Sailors will love Stella's responsivness and frisky nature; she moves fast on brisk days. Come take a turn at the tiller, or watch as Willie puts her through her paces.
Light wind days are ideal for young children or folks just learning new skills. Willie can spend time demonstrating the basics and introduce simple sailing terms. Nice weather makes wildlife viewing from the sailboat delightful and quiet . Stella is traditionally rigged as a sloop so the systems are simple and easy; folks of any age can learn to sail.
Sailing Tour of Sadie Cove
Enjoy this one-hour tour of the Cove under peaceful, relaxing sail power. This quiet mode of transportation doubles as a great platform to watch eagles, sea otters and, with luck, whales and bear. Come aboard and experience a place where clocks, phones and flickering screens melt away to be replaced by nature's own ryhthms.
Minimum 2 people. Contact us for pricing and details.