Day Trips during your Visit
Gull Rock Rookery Water Taxi Loop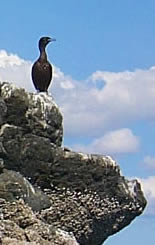 Add $50 to your water taxi fare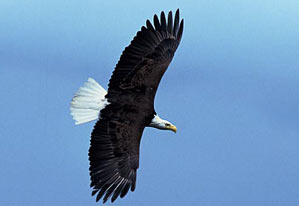 On your trip to or from La Caleta Wilderness Lodge, why not add a boat tour of Gull Rock? This is a world class seabird rookery—the summer breeding ground for thousands of cormorants, seagulls, kittiwakes, common murres and horned puffins. It's fascinating to see all these birds together with their nesting babies. Hear the wild, raucous alarms when a raiding bald eagle swoops by. Gull Rock is a Kachemak Bay "must see." Add $50 to your water taxi fare.
"We had a great early morning Kayak to the fjord. Loads of fish. I have never seen so many Bald Eagles before. There's been numerous otter, one group of 6 cruised by late yesterday evening. Only one bear, spotted by Willie on the way out."
Jacob and Kristan Brown Jared and Linda Brown

Wildlife / Photography Boat Tour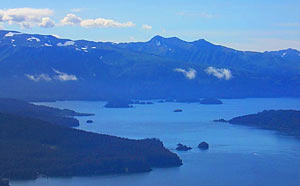 3 to 4 hours, depending on weather.
$150.00 per person, 2 person minimum
$500.00 for 4 people.
This awesome boat tour takes us through the Herring Islands, into coves and passages of Kachemak Bay State Park and out in the deep water of the outer rocks. A variety of seabird life, otters, porpoise, sea lions, Bald Eagles and sometimes Humpback whales will grace us with their presence. The light for photography is amazing and a mid day lunch allows time on shore to focus around the forest.

This has been a magical, exciting and adventurous honeymoon. The mussels were excellent and fun to harvest. We had a blast fishing for pinks and dollies in the streams at the end of the cove. Pictures and stories don't do this place justice. Getting to see wildlife like this (being up close and personal) is simply amazing. This is exactly what us newly weds needed. We will be returning for our aniversy!!! Aaron & Racheal Wimberly 2012
Sadie Lagoon High Tide Kayak Tour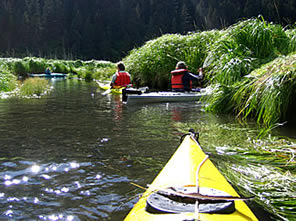 $70.00 per person, Min. 2 people
This 2-hour tour will take us into a magical, hidden lagoon that transforms itself with the coming of high tide. At low tide the lagoon resembles a dry, flat river delta that is constantly flushed with nutrient loaded salt water that provides many marine animals with food. In July and August a wild salmon run attracts eagles, seabirds and black bear for a nourishing meal.
As we enter the lagoon on the rising tide our kayaks provide the perfect platform to observe these wonderful interactions. We'll float up the tide-flooded river and count hundreds of salmon as they bump our boats and fill the stream. If we're quiet we might be lucky enough to witness a black bear stuffing itself with the rich salmon it will need to survive the long, dark Alaskan winter. Photographers will also enjoy the opportunity to observe eagles in all phases of maturity as they feed on the rich abundance of salmon in the lagoon.
We had a fantastic time at this beautiful place. We kayaked up and down the cove and marveled at the variety of sea stars to the leftand jellies to the right. We loved watching the eagles feeding their young and we were very excited to see a rufous hummingbird at the kitchen window. The views are stunning in every direction. We will never forget our time here. Brad, Theresa, Shane, Racheal, and Annalise Gould-Carterville, Illinois 2012
Grace Ridge Hike
$75.00 per person includes guide and RT transportation from La Caleta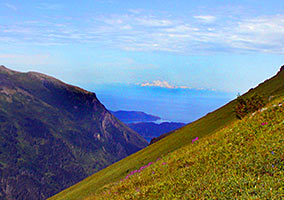 Five to six hour delightful hike up to Grace peak. The Gulf of Alaska, Cook Inlet, Shelikof Strait and many mountain peaks are visible from the top. Parts of the trail are wonderful vibrant green forest, and once we gain elevation the plants and animals of the alpine will accompany us. Don't forget your camera; the vistas on a sunny day are endless.
"This has been the highlight of our trip. Luke(14 year old Irish lad) has been blown away by this experience. At least 50 times he has sworn that he must return in the summer. It beats his x-box, playstation, Bebo site and metal music." Thanks for having us, Roe and Luke