Sailwood Adventures
. . is located within the dramatic surroundings of Sadie Cove in Kachemak Bay State Park, an enchanting, natural gem thirty-five minutes by water taxi from Homer, Alaska. Traveling to the southern shores of Kachemak Bay allows one to observe wildlife, unique geologic formations, and experience some local color. Sadie Cove is one of two true fjords in Kachemak Bay State Park, with vibrant green slopes that leap from the high tide line, daring adventurers into magical alpine regions. Beaches also make delightful places to explore and relax, while soaking up the natural beauty.
CLICK HERE to see our location
La Caleta, our Rental Cabin in Sadie Cove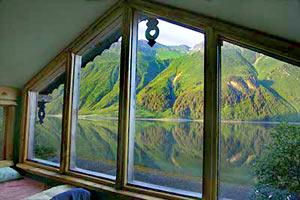 Our cabin, La Caleta is open for nightly rentals throughout the summer season. Make this comfortable hideaway your own while you take advantage of one of our guided programs or slip away for some private time with family and friends. La Caleta sleeps up to 8 people and is complete with a full kitchen and sauna with bathhouse. Unlimited use of kayaks and safety gear are all part of the adventure while visiting in Sadie Cove and Kachemak Bay State Park.
Marcie & Willie,
"What a great place for our last leg of our honeymoon adventure! You could not have created a more special & private place to share. Everything was great.....kayaking during the day, sauna at night, mussels for dinner. Who could ask for more? We hope to return again. La Caleta will always be a part of us!"
-- Amy & Stephan Spargar Chicago, IL.
Kayak Adventuring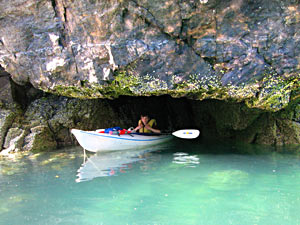 Kayaks and guiding services are available for your visit to Sadie Cove. As overnight guests at La Caleta, kayak use is included with your accommodations. If you're new to sea kayaking we have guides that can provide the necessary instruction and trip leadership. Kayaking is the perfect way to experience wildlife, cascading waterfalls and all the serenity this glorious coastal watershed has to offer. Kachemak Bay water taxi service provided by Sailwood Adventures can allow you access to established trails and the wild backcountry of Kachemak Bay State Park. More...
"What a special place. Even in the rain, it sparkles. On our first day here, we got engaged! Our 3 days here have been like a dream. I will re- visit La Caleta in my day dreams often". -- Peace & happiness, H. & Z. Venice, Calif.

Sailing on the Stella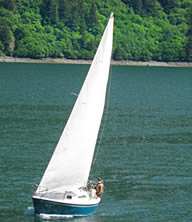 Enjoy Sadie Cove for an afternoon sailing aboard our 25' Bayliner Buccaneer sloop, Stella.
Bayliner chose a wonderful designer, Gary Mull for the one year they built a sailboat. The Buccaneer was designed to rip through the water......Stella. More...
It is always a pleasure to bring people to this beautiful place that enjoy it as much as I do!! Your sauna still is the very bestI found in Alaska. I didn't know how much I needed time here to relax....loved it -- Chrisoff Kasach, Nikiski, Ak.

Day Trips during your visit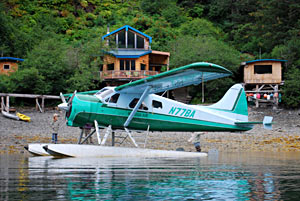 Sailwood Adventures also offers guided wilderness experiences in Kachemak Bay State Park. Designed for private, small commercial or family gatherings, Sailwood Adventures can custom build a tour for your needs. We combine hiking, sea kayaking and mountain biking to allow you to take advantage of all the Kachemak Bay region has to offer. These trips are for people who want to get out on extended camping forays to explore more deeply. It's a lovely way to unwind while experiencing alpine regions, backwater coves and endless wildlife. More...

Sat. Aug.18,2012 The Mumfords are lucky enough to spend 1 more night than planned. Unforgettable adventures, fantastic views a cosy and very special house, and friendly outstanding hosts have made this a dream come true. We are astounded at the energy and love in La Caleta, and Sadie Cove is awe inspiring. -- Thanks, Maggie Mumford
Water Taxi Service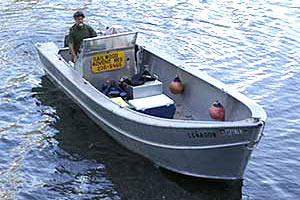 Our 24' aluminum skiff can take you anywhere you want to go in and around Kachemak Bay State Park. The 30 minute ride to La Caleta is a delightful natural history tour. Eagles, seabirds, sea otters and sometimes a whale, make every trip to the south side of Kachemak Bay magical and unique. We have round trip specials for La Caleta guests, yet we are available to escort you to any other part of the bay you may want. Many trails are accessible from the waters on the south side.
WE had a great early morning Kayak to the fjord. Loads of fish. I have never seen so many Bald Eagles before. There's been numerous otter, one group of 6 cruised by late yesterday evening. Only one bear, spotted by Willie on the way out." -- Jacob and Kristan Brown Jared and Linda Brown